Systematic Test of Embedded Automotive Communication Systems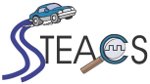 The research project STEACS is a joint effort of Decomsys GmbH, the department of Embedded Computing Systems at the University of Technology Vienna and the department of Embedded Systems at the University of Applied Sciences Technikum Wien (Fachhochschule Technikum Wien). The aim of the project is to address the arising problems for the system integration of distributed embedded automotive electronics with a special focus on the communication subsystem.
Automotive electronic systems like brake-by-wire and steer-by-wire will enable a boost of advanced and improved driving functionality due to inter-operation of current stand-alone applications. This inter-operation of the distributed nodes, however, tremendously increases the complexity of these systems, that can be used in safety-critical domains. This in turn imposes a need for highly accurate testing and diagnosis strategies. In cooperation with BMW and DaimlerChrysler we will perform a profound requirements and concept analysis for such methods and tools. Feasibility studies will be performed on a demonstrator setup to verify the concepts implemented in the developed diagnosis and test tools.

Project Duration: 01.09.2003 - 31.08.2005

The research project STEACS is funded by the FIT-IT [embedded-systems programme, an initiative of the Austrian ministry of traffic, innovation and technology BMVIT, the Austrian industrial research promotion funds FFF and eutema technology managment.